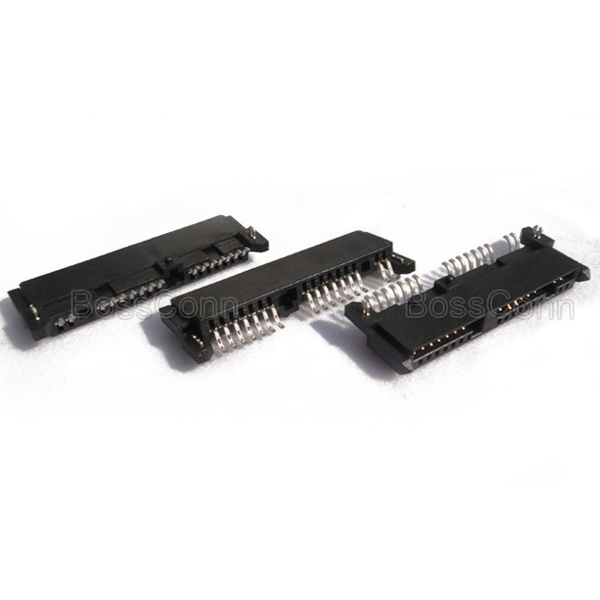 Micro SATA Female Connector
Product Number :MIC-SAT-CN04
Product Name : Micro SATA Female Connector
Description :
Micro SATA Connector,
Female, SMT Type.
With ForkLock, without Screw hole.

ForkLock height: 1.47mm, Width: 1.3mm. Used for PCB thickness: 1.00mm.
(This dimension based on different PCB thickness, such as for thickness 1.50mm, then ForkLock height is 2.5mm, the width is 1.80mm)

16P
1. MATERIAL

Base: High temperature thermoplastic UL94V-0,
Terminal: Copper alloy, thickness=0.3mm.
ForkLock: Brass, thickness=0.3mm.
2. PLATING
Terminal contact area: Gold over, 50u" Min. Nickel underplate.
Terminal solder tail: 150u" Min. misty tin, 50u" Min. Nickel underplate.
ForkLock: Tin-plated, Nickel underplate.
3. ELECTRONICAL SPECIFICATION
Current rating: 1.5 Ampere per contact.
Contact Resistance: 30 Milliohms Max.
Insulation Resistance: 1000 Megohms Min.
Dielectric Withstanding Voltage: 500VAC.
Operating Temperature: -40~+85 degree C.